POLYPROPYLENE STICKS FOR COTTON SWABS PRODUCTION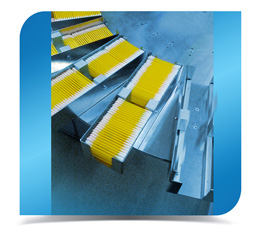 These are suitable for production of cotton swabs (ear buds)
Made from virgin suitable polypropylene that gives rigidity , flexibility and break resistance. Also the PP used can be hot ribbed easily on stick heating devices of cotton swabs machines.
Dimensions: 72 mm length , 2.5 mm outer diameter ,smooth outer surface or ribbed surface.
Weight: various weights can be chosen. Most usually we supply the weight of 160 gr per thousand sticks.
Strict tolerances in dimensions and roundness insure cotton swabs machine uninterrupted production and high quality swabs.
Colors: White, Light Pink, Light Blue , Yellow or any other color according to customer's demand.
Packing: properly stacked in carton boxes suitable for all cotton swabs machines.
Cartons are stacked on pallets .