BABY & ADULT DIAPERS BAGS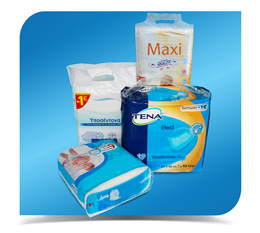 Usually for :
Baby Diapers
Adult Diapers
Underpads
Wet wipes multipacks
Light incontinence products
Characteristics
These bags are filled by full automatic bag filling machines. There is a flap with 2 wicket holes according to customer's specs. The bag opens by vacuum lifters and product is filled automatically. Then product is moved in the sealing position where after forming a gusset it is heat sealed.
Inside top gusset there is a LDPE flexible strap which is sealed firmly on side seals of gusset. This strap handle is used for carrying the filled bag by end user.
There is a perforation inside gusset so to facilitate the product taking from end user.
Wicket bags are stacked and plastic bobbins inside wicket holes hold them together ready to be placed on the full automatic bag filling machine.
Material: LDPE co-extruded with modified coefficient of friction in inner and outer layers , antistatic, usually white colored.
Other option "frosted" LDPE .
Transparent or white LDPE in thickness from 40 to 55 microns .
Flexographic high definition printing up to 10 colors
Possibility of producing the bag without flap with wicket holes so to fill the bag manually
Added features:
Y shape ventilation holes so that air escapes easily during product filling.
Longitudinal perforation inside top gusset
Perforation Π shaped for opening from side of bag.
Slits near wicket holes
Slit in side seals near bag opening to prevent side seal opening.